A UNIQUE 3-day STRESS MANAGEMENT TRAINING COURSE:
Breakthrough Methods to Release Stored Stress & Tension
How to Manage Ongoing Stress
Creating Occupational Well Being
Resulting in Professional & Personal Effectiveness
RESULTS FOR COMPANIES:
Healthier Employees
Better Work Performance
Improved Work Relationships
Less Conflict, Better Team Synergy
Decreased Absenteeism
Increased Production
Increased Profit Margins
---
FACTS ABOUT STRESS
The American Medical Association has noted that stress is the basic cause of more than 70% of all human illness and disease. This includes things like heart disorders, many forms of cancer, strokes and countless others. Considering the often stressful lives that most people live, both personal and work related, this is a disconcerting phenomenon.
Many world and government health organizations such as the World Health Organization (WHO) have become so concerned, they have issued guidelines to employers on how to reduce stress in the workplace, and recommend that staff attend Stress Management programmes. Learning to balance the extra demands of the workplace, family and personal needs is central to reducing this 21st Century epidemic.
---
WHAT IS STRESS?
Experiencing stress is the result of a reaction to any perceived, real or imagined threat – physically, mentally, emotionally, spiritually or financially.
During stressful situations the mind (the primitive amygdala) sounds a general alarm and the body prepares within seconds for the Fight or Flight Response (aka The Stress Response) – the Sympathetic Nervous System is activated. The adrenal system floods the body with adrenal and cortisol and many other physiological processes take place to prepare the body to fight or flee. The entire body is in a STATE OF HIGH ALERT!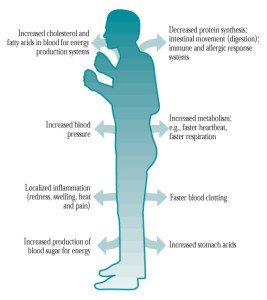 ---
THE LONGER TERM EFFECTS OF STRESS
Stress when managed properly, can be a real asset to performance. However when chronically stressed we under perform in all aspects of life.
Prolonged exposure to stress can condition the brain to remain in a hyper-vigilant state
The physiology of the brain changes
Electrical patterns are locked into a STRESSED STATE
This affects the tone of the Central Nervous System
Affecting Hormonal Balance
Which impairs the Immune System
Impairs Mental Processing
Impairs Emotional Control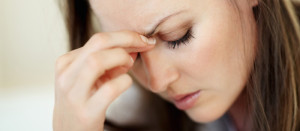 ---
IN THE WORKPLACE THE EFFECTS AND RESULTS OF STRESS ARE:
Underperformance
Impaired mental processing
Accidents
Poor Decision making
Demotivated and unhappy employees
High staff turn-over
Interpersonal, corporate and political disputes
Work relationship conflict
High rates of absenteeism
Which results in low production,
Costs companies millions/billions in direct & indirect costs
It therefore makes business sense to address stress in the work place.
---
SO WHAT IS THE SOLUTION?
Enroll your employees on the 3 Day Training Course:
STRESS FREE with TRE
Stress causes tight muscle tension patterns in the body and associated emotions such as fear and anger are embedded in the cellular memory as well as the Unconscious Mind. It is therefore imperative to incorporate the physical body and the mind body connection in the recovery and healing process.
This course will offer insights into the understanding of stress and the dire consequences to overall health, well-being and performance. It introduces practical and physical ways to effectively manage stress both work-related and personal for the rest of your employees' lives, bringing long term personal and occupational health and wellness. This in turn results in professional and personal effectiveness.
Training Courses can be tailored for companies.
WHY SHOULD YOU ATTEND THE
"STRESS FREE WITH TRE TRAINING COURSE"?
Cutting edge, scientifically researched techniques to relieve/manage stress
Unique course imparts self-empowering/self-help tools that rid the body of stored stress, tension, trauma and anxiety
Not the usual 1 day Stress Management Course which gives cognitive tasks to manage stress
Yields immediate, measurable and observable life changing results
Equips delegates to use methods on weekly/monthly basis to manage ongoing stress
Many Fortune 100 companies use some of the methods (but none use TRE or EFT)
Training involves gentle physical movements, imagination, relaxation and the usual mental tasks
Self help tools for life
No need to talk about one's challenges and therefore no dependency on ongoing talk therapy
Training is fun and memorable – resulting in relaxation and a transformational experience
A HOLISTIC APPROACH  
ADDRESSES THE MIND BODY CONNECTION
TO ACHIEVE
BALANCE, PERSONAL AND OCCUPATIONAL WELLNESS & WELL BEING
BE A TRENDSETTER AND DARE TO CHARTER WATERS
 TO DISCOVER
THE DE-STRESS METHODS THAT YIELD THE RESULTS YOU HAVE BEEN LOOKING FOR!
WHO SHOULD ATTEND?
Directors, managers, supervisors, administrators, support staff, customer service staff etc. – in fact everybody within an organization because stress is not exclusive to certain people – it affects everyone! This course is a vital and positive step and solution in order to address all imminent problems in work situations.
Emotions drive people and people drive performance, it therefore makes perfect sense to address stress in the workplace which is a forerunner to all negative emotions.
COURSE OBJECTIVES
To learn about the Flight & Fight Response/the Stress Response and the mechanisms that cause the state of stress
To understand the long term effects of stress on the physical body and one's general health
To identify personal and work-related stressors and their symptoms
To introduce revolutionary, dynamic and effective techniques namely Brain Entrainment, TRE (Tension Releasing Exercises), Tapping/EFT (Emotional Freedom Technique) & Creative Visualization in order to address stress
To facilitate delegates through the process of familiarizing themselves with these physical techniques to rid the body and mind of stored stress and to manage stress effectively on an ongoing basis
To support delegates to feel comfortable and confident to practice these techniques and to use them regularly as self help tools
WHAT WILL YOU GAIN?
A sound understanding of the importance of monitoring and managing stress
Self Help Tools namely Brain Entrainment, TRE, Tapping/EFT and Creative Visualization to utilize and practice as highly effective ways to deal with and manage stress
Better control over your daily life
Greater personal effectiveness
Better focus & decision making
Enhanced Energy and Efficiency
Enhanced well-being, happier and a more satisfying lifestyle
A body and mind that is in balance (reach homeostasis)
Peace of mind, a sense of wellness and good health
Certainty knowing that you have effective self help tools that will work for the rest of your life